Indonesia Fashion Week (IFW) February 15, 2013, presents a variety of activities surrounding the Muslim fashion. In addition to showcasing a variety of collections of young Muslim fashion designer and renowned Indonesia, various activities that will inspire Muslim dress, especially the hooded, also took place in the area of ​​Main Lobby Jakarta Convention Center.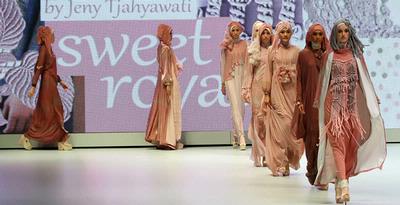 On the catwalks, hundreds of Muslim fashion models displayed. Every brand and designer suit collection presents a wide selection of character and taste. Although different styles, most of the designers showing Muslim fashion with pastel colors. Soft colors which is the Muslim fashion trends for 2013 can even survive until 2014.
Revelation Dian Utami's and Dian Pelangi's brand are featured in IFW 2013 Fashion Parade featuring limited edition collection, inspired by the African desert. Collections were prepared in a week using a lightweight chiffon material, with warm colors, but still shows the character played Dian Pelangi bold colors in one set of clothing. Warm colors also represent the collection of Dian Pelangi pastel color trends in the Muslim fashion.
The Muslim fashion famous brand , Shafira, also featuring pastel colors in the new collection Jardin de la Sultana. This collection is inspired by the landscape garden, iconic Alhambra palace in Granada, Spain. Shafira translate pastel color trends 2013 with different shades. Evening wear collection shown Shafira in IFW 2013 comes with a pastel color mixing computer-generated results. A total of 72 sets of clothing collection 2013 is predominantly soft, pastel colors bring a touch of technology.
Jeny Tjahyawati with Jeny's brand also features pastel colors in a fashion show themed Sweet Royale. Muslim clothing including veils comes with Makram technique with soft colors, predominantly pink.
"A pastel color trends for 2013-2014, including the Muslim fashion," he said during a press conference ahead of the show.
As for Nuniek Mawardi performing lifting striated, pastel color trends do not stand alone. In his design, he presents new colors reinessance, pastel colors combined with strong colors.
Each designer translates pastel color trends in the Muslim fashion style and character of each. You have many options for finding a personal style in Muslim dress. If you do not get to see directly the Muslim fashion show, you can still find inspiration in the area of ​​fashion Muslim Indonesia Fashion Week 2013 exhibition is open until Sunday, February 17, 2013. [courtesy Kompas.com]